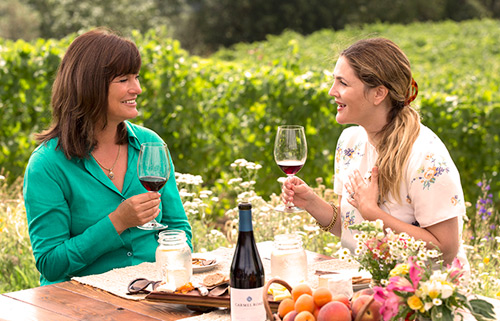 From Our Family to Yours
A true collaboration, Barrymore Wines and Carmel Road brings together two family-owned companies with deep roots in California. Carmel Road focuses on expressive wines with unique personalities, and brings that same spirit to the Barrymore Pinot Grigio. Together, Drew Barrymore and Carmel Road Winemaker Kris Kato partnered to create this fresh, lively offering.
Barrymore Drew's Blend Pinot Noir
Barrymore Rosé of Pinot Noir
Barrymore Pinot Grigio
The Inspiration
Wine is all about the journey. The discovery of new wines, new regions and new vintages is what keeps wine exciting to novices and enthusiasts alike. For Drew Barrymore, the allure of that journey and the chance to create an offering to share with her family and friends propelled her to delve into the world of wine. A fan of crisp, fruity white wines, Barrymore has created a wine that is perfect for sharing and making memories around the table.