By Shawna Cain
Re-claim your gift game
Show off your creative spirit, embrace your trendsetting style, and flaunt your eco-consciousness with upcycled gifts that skillfully re-design products from the wine industry and give it a new life. Repurposing items reduces waste in the landfill and carbon emissions required for recycling processes.
We've curated a list of our favorite repurposed wine bottle, barrel and cork products for truly unique gift ideas. Make your list and check it twice, then kick back and relax with a glass of certified sustainable wine from Carmel Road.
Repurposed Wine Bottle Gifts
While highly recycled in some areas, EPA estimates some 70% of wine bottles end up in the landfill, and it can take over one million years for glass to naturally break down. You can do your part by contacting your local waste hauler and ensuring you are aware of what and where to recycle your used wine bottles.
After your bottle recycling is down pat, you're ready to shop upcycled bottle products that will impress and delight your wine lover friends and family. For the DIY crafter, consider repurposing your own bottles from special occasions into vases, candles and more. Or save time, ensure quality and keep your gifting stress free by purchasing from these handy artisans and mission oriented businesses.
Repurposed Wine Bottle Garden – Self-Watering Grow bottle – Sleek and stylish, these self-watering herb planters use hydroponics to grow everyday spices like basil, thyme, parsley, mint and oregano. ($36, Etsy)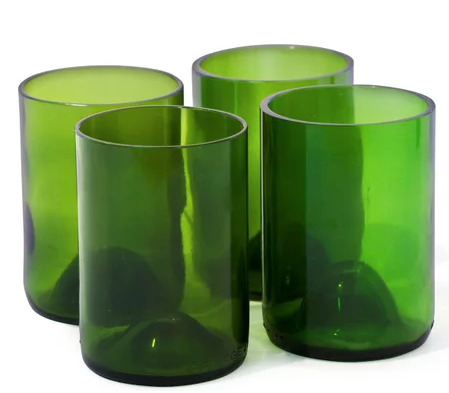 Recycled Wine Bottle Drinking Glasses - Unique, simple and 100% recycled wine bottle glasses are perfect for sipping on anything from water to wine. Bottles are carefully collected and transformed by local USA artisans to create these eco-friendly glasses. Color Options include: Green, Aqua/Clear, Amber (brown to gold hue),  and "Gramber" (a different shade of amber or green), Cobalt (Blue), order a mix set for a rainbow of colors! ($49, Give Back Goods)
Wine Bottle Molded Serving Trays or Spoon Rests Cork – Equally beautiful and practical, these trays will literally "serve" as a great talking piece at your next party. These lovely one of a kind up-cycled wine bottle serving trays offer a beautiful alternative to the traditional appetizer tray or can be used as an individual plate or spoon rest. Set of 2 in multiple colors. ($38.98, Etsy)
Recycled Cork Products
According he Cork Forest Conservation Alliance, cork forests are some of the most sustainable forests in the world. Approximately 6.6 million acres of Mediterranean cork forest provide livelihood and support some of the world's highest levels of forest biodiversity, second only to Amazon Rainforest, and supports endemic plants and endangered species.Cork is sustainably hand-harvested from trees every 9 years, a process which protects the health of the trees, which can live up to 300 years!
Recycling cork may seem like an insignificant act, but cork recycling reduces waste and fuels innovative upcycling of products across diverse industries. While cork harvesting is 100% renewable and recyclable, it takes 25 years for a tree to produce its first harvest, and nearly 10 years between harvests after that, making the recycling cork products a common-sense way to conserve resources. Cork is too dense to be recycled in most curbside recycling centers, but collaborative partnerships with nonprofits, retailers and closed-loop businesses have developed a drobox network for corks. Find your nearest cork dropbox here.
While cork can't be recycled for wine stoppers due to bacterial concerns, it's re-use been widely praised for a variety of applications. From flooring and insulation to clothing and shoes, these innovate cork products are excellent choices for the eco-friendly wine lover in your life.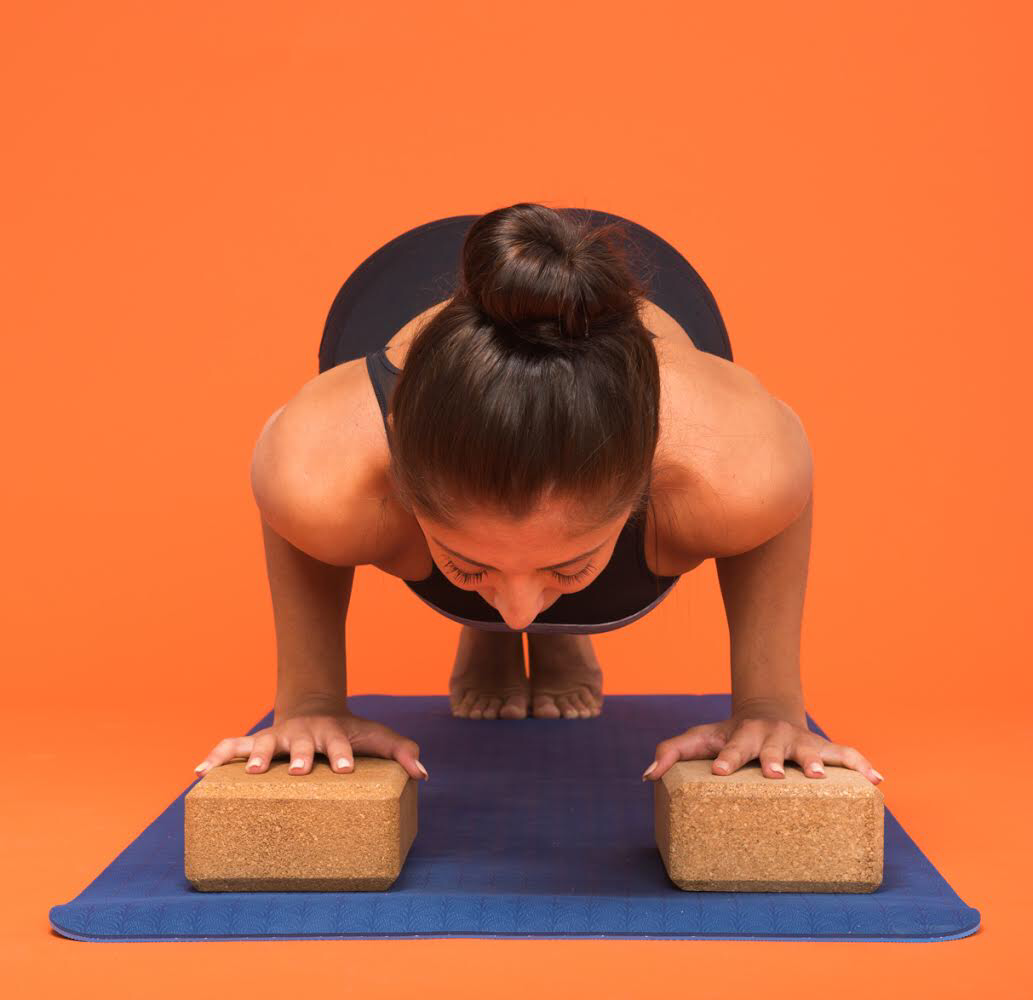 Yoga Blocks – Provide support (see what we did there?) for your vino loving yogi with these recycled cork blocks. Each block re-uses 198 corks, compressed into a sturdy block to step up your yoga game. ($20 each, ReCork)
ReCork, the innovative company that makes these blocks, is North America's largest natural wine cork recycling program, and have recycled over 90 million corks! They have over 3,000 cork collection partners and have planted more than 8,000 cork oak trees. Future products include 100% cork traction pads for surf boards. Check back for summer gifting – surfs up!
More Cork Products
These other cork products are made from sustainably sourced raw cork material. While recycled cork stoppers is an excellent way to reuse waste products to keep them out of landfills, companies that make fine products with cork are elevating the overall sustainable material and pioneering the trend of cork in fashion, home décor and more.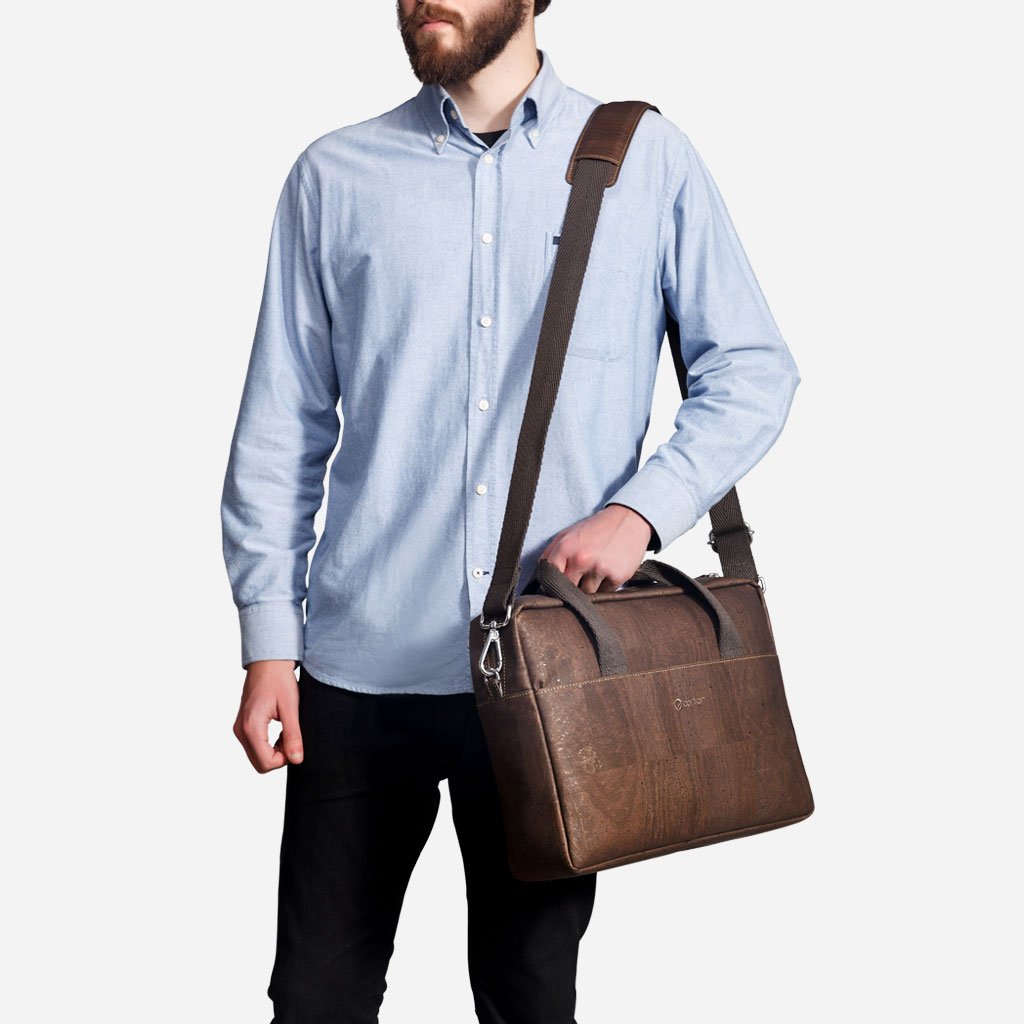 Sleek Cork Briefcase – For the businessman by day and wine connoisseur by night, this smooth and sophisticated briefcase is the natural choice for a man with refined taste. Cork clothing and bags have been trending as an alternative to leather for its strength and suppleness. And it's easier to care for - uunlike leather, it's natural, water repellent, scratch and stain resistant. It is also very easy to maintain and clean: water and soap will do the trick! The company Corkor, designs and hand makes products in Portugal, and ensures all raw cork is FSC certified, ensuring a sustainable harvesting. ($195, Corkor)
Cork Tie Tote – this elegant cork tote is a feminine lilac hue that is a classy accessory to any eco-chic wardrobe. This company, StudioCork has a goal to spread "Cork" around the world as an alternative to genuine leather and also by giving a different approach to the Fashion World, providing trendy bags and wallets without compromising nature. ($155, StudioCork)
Upcycled Barrel Staves
Barrel aging is a signature tradition of high-quality winemaking, and can vary the color, flavor and tannin profile and texture of wine. Barrels are carefully chosen by winemakers, with much thought going into type of oak – French or American, seasoning of the wood – generally 10-36 months to dry and then toasted for adding dimension. Barrels are reused for an average of five vintages, becoming milder each use until they eventually are decommissioned. Woodworkers and artisans give these retired barrels new life with home décor, kitchen items, furniture, planters and more!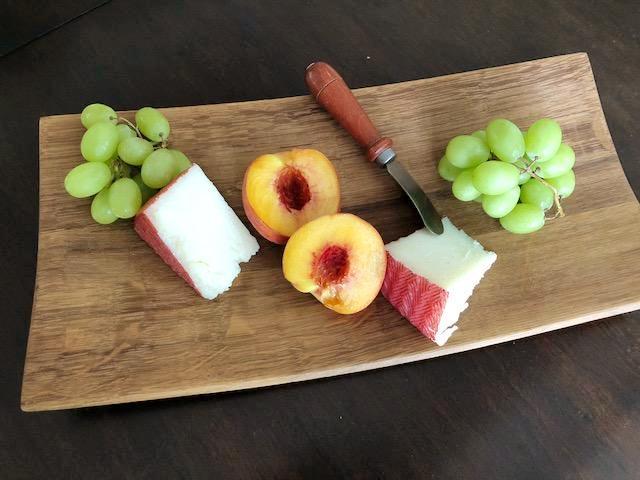 Reclaimed Barrel Stave Serving Board – these beautiful serving trays will not only impress your woodworking friends with their creative repurposing and high quality finish, the company gives back 10% of profit to causes each year. ($110, Give Back Goods)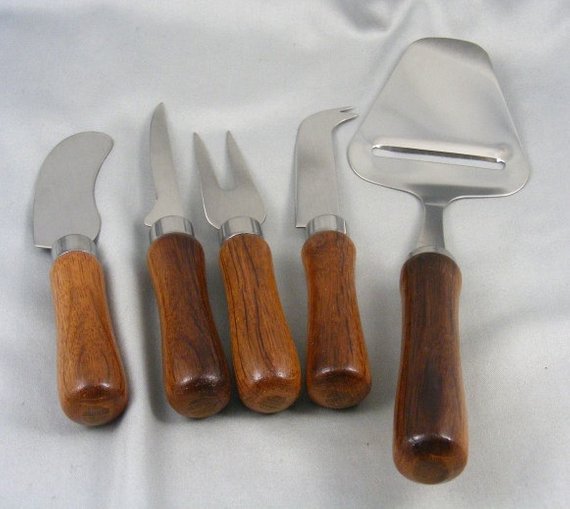 Wine Barrel Stave Cheese Set – An exceptional gift for the wine and cheese connoisseur, this cheese knife set is handmade with recycled barrel staves and stainless steel. Set includes a cheese plane, spreader, and fork and two knives. Perfect for cheeses, meats, and other tasty hors d'oeuvres. ($95, Etsy)
Certified Sustainable Wine - Top off your eco-gift with a fine bottle of Certified Sustainable Carmel Road wine. We use half as much water as the industry average to produce exceptional quality wine and we are continuing to innovate and lead the industry in developing new tools and processes. Our extensive water management practices include UV light waterless tank sanitations, and cutting edge barrel washing technology, and reuse of winery process water for vineyard irrigation and frost protection.
Between 2008 and 2017, we reduced our absolute water use by 34% (31M gallons) - which is the equivalent of 48 Olympic sized swimming pools filled with water, which would be 1.5 miles to swim from end to end.  Calling all Triathletes, that is longer than a half ironman swim! We keep innovating at every level to minimize our water footprint, and lead sustainability from vineyard to bottle.
Happy Gift Giving and Happy Holidays!
By Shawna Cain
It's the season where we give thanks, and research suggests leaning into this attitude of gratitude year-round can have significant mental and physical health benefits.
This holiday season, as you are gathering around the dinner table, chew on some of these findings about the outcomes of increased gratitude:
-  Increased Happiness: Robert A. Emmons, Ph.D., a leading gratitude researcher, has conducted multiple studies on the link between gratitude and well-being. His research overwhelmingly shows that gratitude increases happiness and reduces depression.
-  Enhanced Self Esteem: A 2014 study published in the Journal of Applied Sport Psychology found that gratitude increased the self-esteem of athletes.
-  Fewer Aches and Pains: Emmons published another study in the American Psychological Association which found that college students who wrote about things they were grateful for once a week for ten consecutive weeks reported fewer physical symptoms such as headaches, shortness of breath, sore muscles, and nausea, as compared to placebo groups.
-  Better Sleep: A 2008 study by Wood et. al from the University of Manchester, showed that people who are more grateful reported falling asleep more quickly, sleeping longer, having better sleep quality, and staying awake more easily during the day.
-  Improves Physical Health: A 2012 study published in the Journal of Psychology, Health & Medicine found that people who are more grateful tend to exercise more, have regular health checkups and reported lower levels of perceived loneliness and stress
While these studies cannot show cause and effect, it's clear there is a connection to gratitude and enhanced well-being.
Practicing gratitude can rev up the happiness level in your life. Regular cultivation is important for your personal health and well-being. Expressing all that gratitude can have a ripple effect by building solid relationships at work and home. The best part is it can be super simple, and most practices are free. The key to seeing results, just like working out, is consistency. Below are some easy ways to exercise your gratitude muscles:
1.  Gratitude Journal

There are many different ways to execute your "journal", but the main idea is the same: spend some time to record positive things in your life on a regular basis.
The minimalist version of a gratitude journal was tested out by my husband, who is an engineer and not much into writing assignments. But as a part of a leadership development course, he began starting his day by writing one thing he is thankful for on a post-it, and putting it in his drawer. Each day this took him maybe 30 seconds, but the post-its added up. At the end of a year, he went through all of his grati-notes, and sorted them by type. As a special surprise, he saved up a year's worth of very specific appreciations and gave them to me for Valentine's Day. I was swooning to read all those appreciations, and you can bet that gratitude bubble reciprocated many times over in our relationship. Years later, I'm still giving him kudos for that J Which takes us to our next exercise…
2.  Writing a letter of thanks

Enjoying gratitude can be a lovely personal process, but it's proven to have a longer lasting effect when shared with others.
A study by Dr. Martin E. P. Seligman at the University of Pennsylvania asked participants to write, and hand-deliver, a letter of appreciation to someone they deemed had not been properly thanked. Increased happiness levels lasted over a month, longer than any other gratitude intervention. This provides evidence that involving others in appreciation is more effective than internalizing feelings of gratitude. Just like wine, gratitude is better when it's shared!
In today's fast-paced world we write emails of thanks, say and hear it often, but so rarely do we hand-write a thank you letter. There is something timeless about taking time to sit down with a physical piece of paper and pen and record a message of appreciation.
3.  Meditation

You don't have to be a bodhisattva to enjoy the benefits of meditation. Taking 10 minutes a day to ground yourself, focus on breathing, and become present in the moment, has immense benefits. Numerous studies have found meditation increases productivity, self-control, compassion and happiness. It can increase gratitude by shifting the focus away from what is wrong and missing, and instead to all which is currently present. With celebrity endorsements such as Oprah Winfrey, Richard Gere and Katy Perry, meditation is mainstream as ever.
If you're new to meditation, you may choose to use a guided meditation recording or app, like Insight Timer.
My husband and I took part in our own experiment a few weeks ago where we committed to doing this 10-minute morning meditation together for 10 days to see if we would notice a difference. As an experienced meditation practitioner, I knew I'd feel more at peace, but I had not anticipated how much I'd look forward to doing it with someone else. I also did not expect the benefits of having a shared experience and shared language around intentionally shifting our internal responses to a more positive outlook. After 10 days, we both found ourselves to be more patient, more grateful and more joyful – all in only 10 minutes a day! It's been so helpful to us that we decided we'd make this ritual a daily fixture in our lives.
4.  Volunteer

Take it from Will Smith, "Your life will become better by helping others". Connecting with others from all walks of life helps put things into perspective, and allows you to be a part of something bigger than yourself. It's easy to become wrapped up in the day-to-day drama and busyness of life, but spending an afternoon at the local food pantry, animal shelter or reading to kids reminds us of what is really important. Seeing how someone else lives, or working to build something bigger than ourselves helps us realize what to be grateful for in our own lives.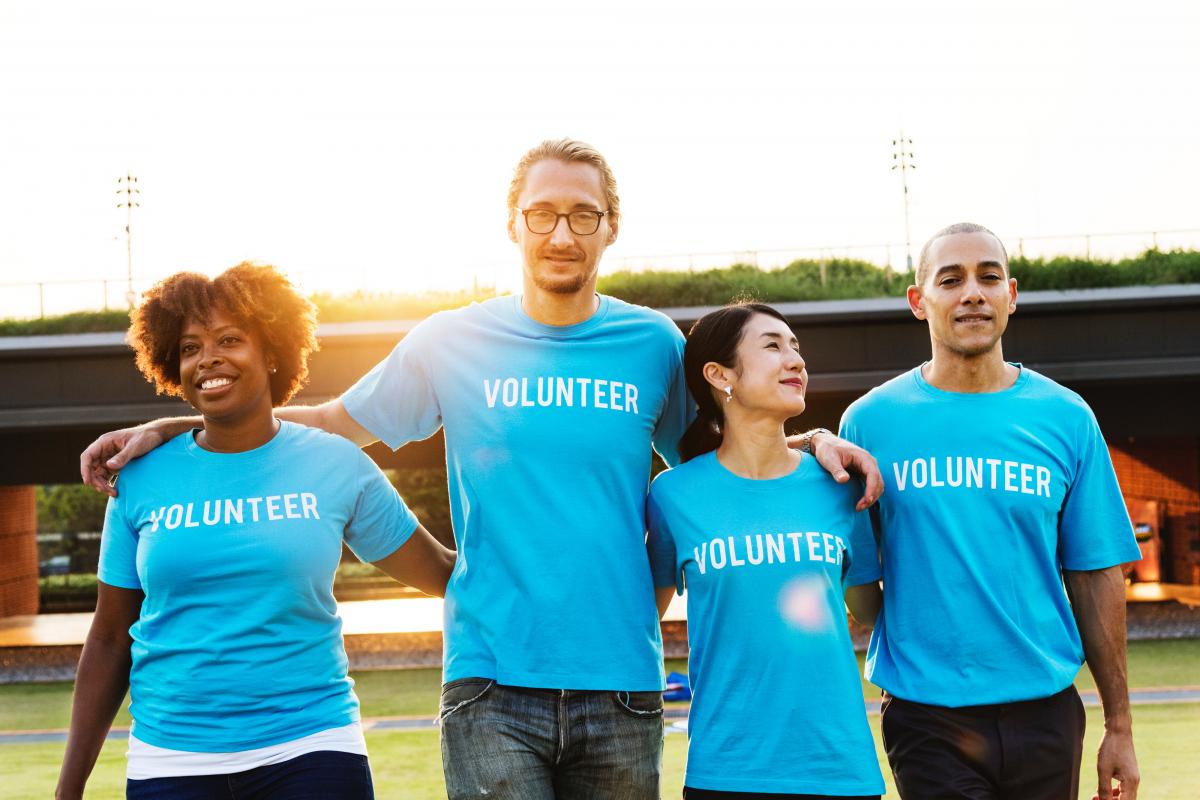 5.  Reflection and Sharing

At the end of the day, cultivating gratitude is about taking time to be present and reflect on the good things in life. One of our favorite ways to do this is kicking back and enjoying a glass of Carmel Road wine with a friend and appreciating the moment. Carmel Road invites you wind down, breathe in the aroma of the wine's complex notes, and appreciate the careful process of grape to glass.
This season, and all year long, enjoy the journey.