We've tailored our viticulture and winemaking techniques
to capture the compelling character of this windswept area.
Carmel Road offers unique Chardonnay, Pinot Noir and Sauvignon Blanc from Monterey and a limited offering of bold Cabernet Sauvignon from select coast vineyards through California's wine country. Our wines are known for their rich flavors, firm acidity and brilliant varietal flavors. But it is the pronounced minerality that sets them apart from their peers throughout the Golden State.
Our hands-on methods begin in the vineyards, where individual rows and blocks of Chardonnay and Pinot Noir are picked separately based upon soil types, exposure, clones, rootstocks and ripening patterns. The wines are vinified using classic Burgundian techniques, including cold soaking the grapes before crush, open-top fermenting in both stainless steel vats and small French oak barrels, and the use of cultured as well as wild yeasts. The wines then are aged primarily in French oak barrels of varying toast levels.
Together, our harvest protocols, clonal and rootstock combinations and barrel regimes give our winemaker, Kris Kato, more than a hundred unique lots from which to create his final blends.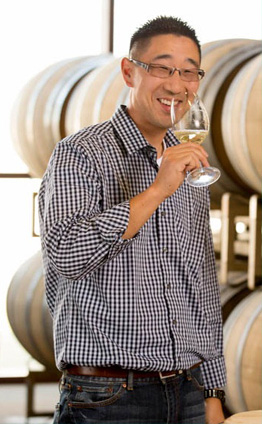 Kris Kato, Winemaker
Winemaker Kris Kato grew up in Portland, Oregon, where he developed "the beer bug."  But the fermentation science program at Oregon State University led him down the path of winemaking. He's worked at Central Coast wineries large and small, and notes both experiences prepared him for his role at Carmel Road, where he focuses on Chardonnay and Pinot Noir.
"Pinot expresses itself more than any other variety, in terms of being nuanced-driven," Kris says. He's excited to be working with Monterey fruit, including from the winery's Panorama Vineyard. "I love to make small lots of wine from different parcels. It's incredible to be able to choose the most distinct wines from the vineyard and showcase them in different bottlings."
Kris is the father of twin daughters, who keep him busy when not at the winery. He also enjoys cooking with his wife, Jennifer. "I'm a foodie," he grins, adding, "But the kids take up a huge portion of our time!"