Panorama Vineyard represents Carmel Road's highest aspirations for Monterey County wine. A rolling vineyard with views of the valley and nearby mountains, Panorama is planted to Pinot Noir. Along with the cool climate consistent to the entire area, three things combine to give Panorama the aspect of a great vineyard. soils, micro-terroirs and vineyard spacing.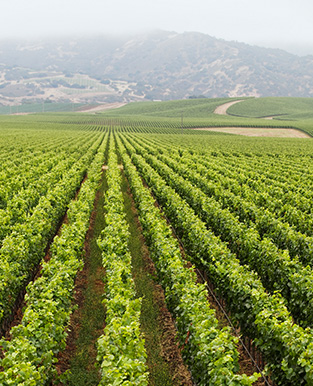 The soil is sandy loam, deposited by mudslides that came off the Santa Lucia Mountains thousands of years ago. Their fine particulate structure allows for the vineyard to be very well-drained.
Micro-terroir refers to the fact that a complicated stretch of land, like Panorama Vineyard, can have subtle differences in weather, even within the relatively small space of a few hundred yards. Small knolls and hills within Panorama provide variations in exposure, resulting in discernible differences in the grapes and wine.
Finally, vines in Panorama are densely planted, and this close spacing results in wines that are more concentrated and powerful. Each vine must compete with those around it for available nutrients. Drip irrigation helps to nurture the grapevines in this ultra-dry section of Central California, where precipitation averages only nine inches per year. The result is smaller grapes with a greater skin-to-juice ratio. Smaller grapes have less water inside them, which makes the wine crushed from them much more concentrated.
Wines from Panorama are intense, complex and richly textured.